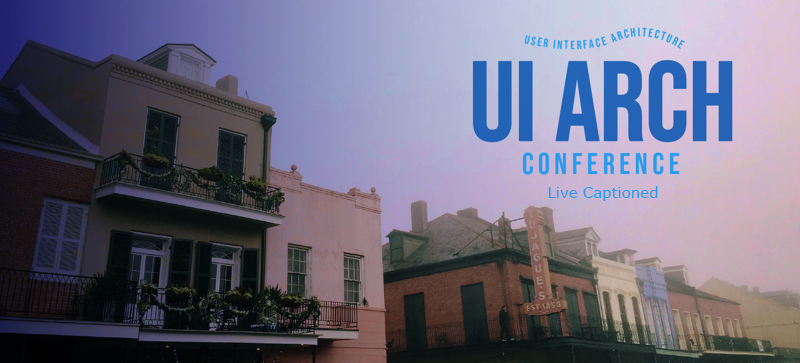 NEW ORLEANS, USA
NOVEMBER 19-20, 2020
Web
Accessibility
Conf
We've added a single day event on designing, architecting and building digital assets for those that require A11y standards to get the most out of their web or mobile experience. Learn from experts in the field how best practices, methods, and tools can make sure your website is ready to serve visitors of all abilities Click below to find out more
Web - Mobile - Design - UX ARCHITECTURE
UIArchConf is a unique conference and training event for those who work as UI Architects, or are looking to become a UI Architect. What's a UI Architect?

We will explore the various aspects of UI Architecture and the role of the UI Architect, and the massive role a UI architect plays in an organization. From traditional "architect" tasks such as defining coding standards, to UX standardization, ensuring accessibility is a forethought and not an afterthought, the UI Architect wears many hats, and is a leader within their company championing the user interface.

If you are a Design, UX, User Experience, or Front-End developer/engineer, you can benefit both your company and your career by attending UIArchConf. You might already spend some of your time doing the things a UI Architect does! You will learn from your community experts who are currently in this role, or are playing a similar role.
UIARCHCONF REGULAR PRICE PASSES - $895
UIARCHConf Conference Only April 2-3 (Late price $995 from Feb 11)
WEB ACCESSIBILITY CONF REGULAR PRICE PASSES - $400
WEB ACCESSIBILITY CONF Only April 1 (Late price $500 from Feb 11)
WEB ACCESSIBILITY CONF & UIARCHCONF COMBO - $1295
Official Conference Hotel
We have a discounted rate available at the Courtyard New Orleans Downtown. There's alot happening in New Orleans this week, so book at our group rate and stay with other attendees and speakers!
Book Hotel
What does UI Architecture mean?
Scott Davis discussing why UI Architecture is important
What does a UI Architect do and the hats they wear?
Laurie Barth discussing UI Architecture roles
How does your company do UI Architecture?
Jonathan Creamer talks about "divops" at Eventbrite
Initial Speakers, more to come!